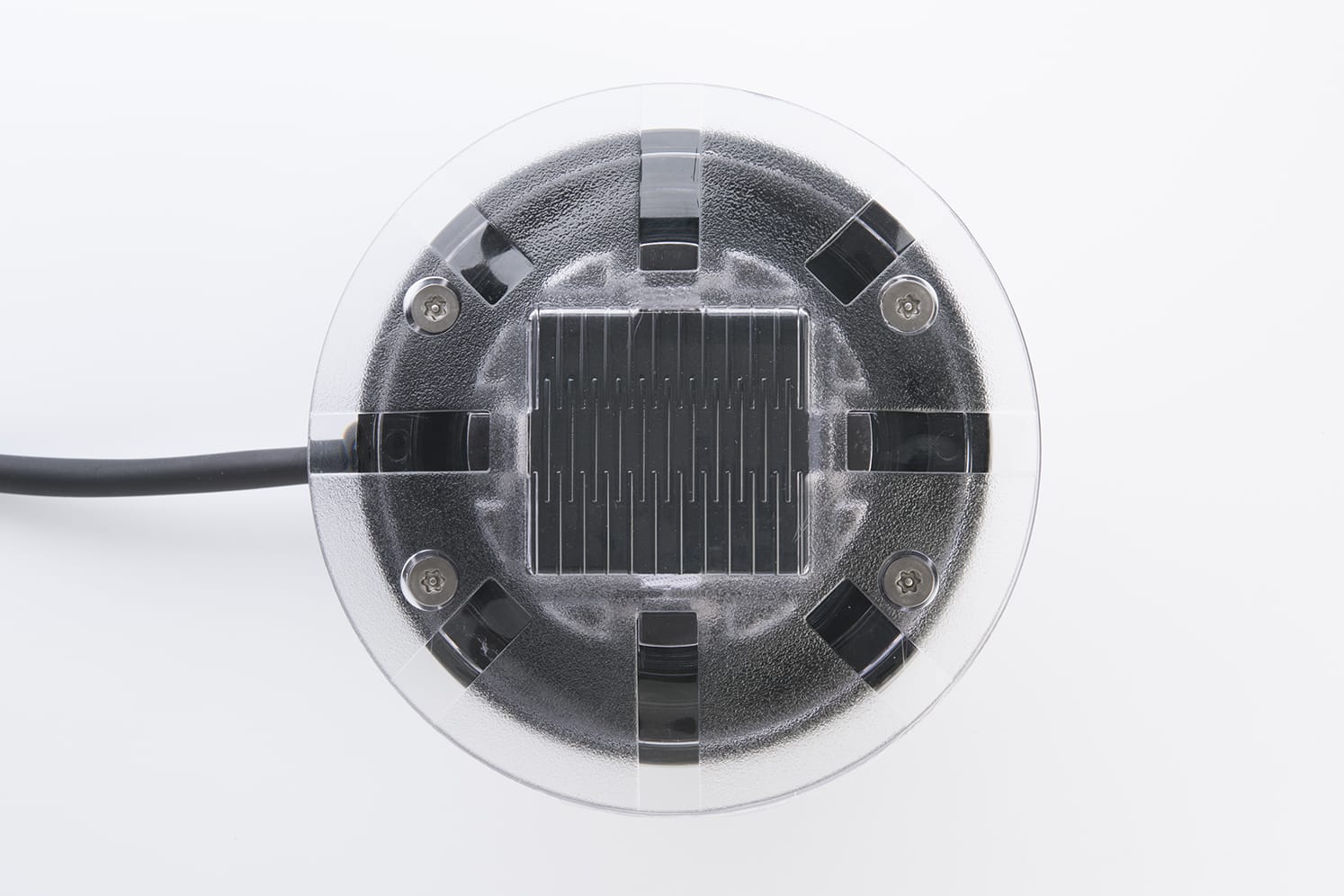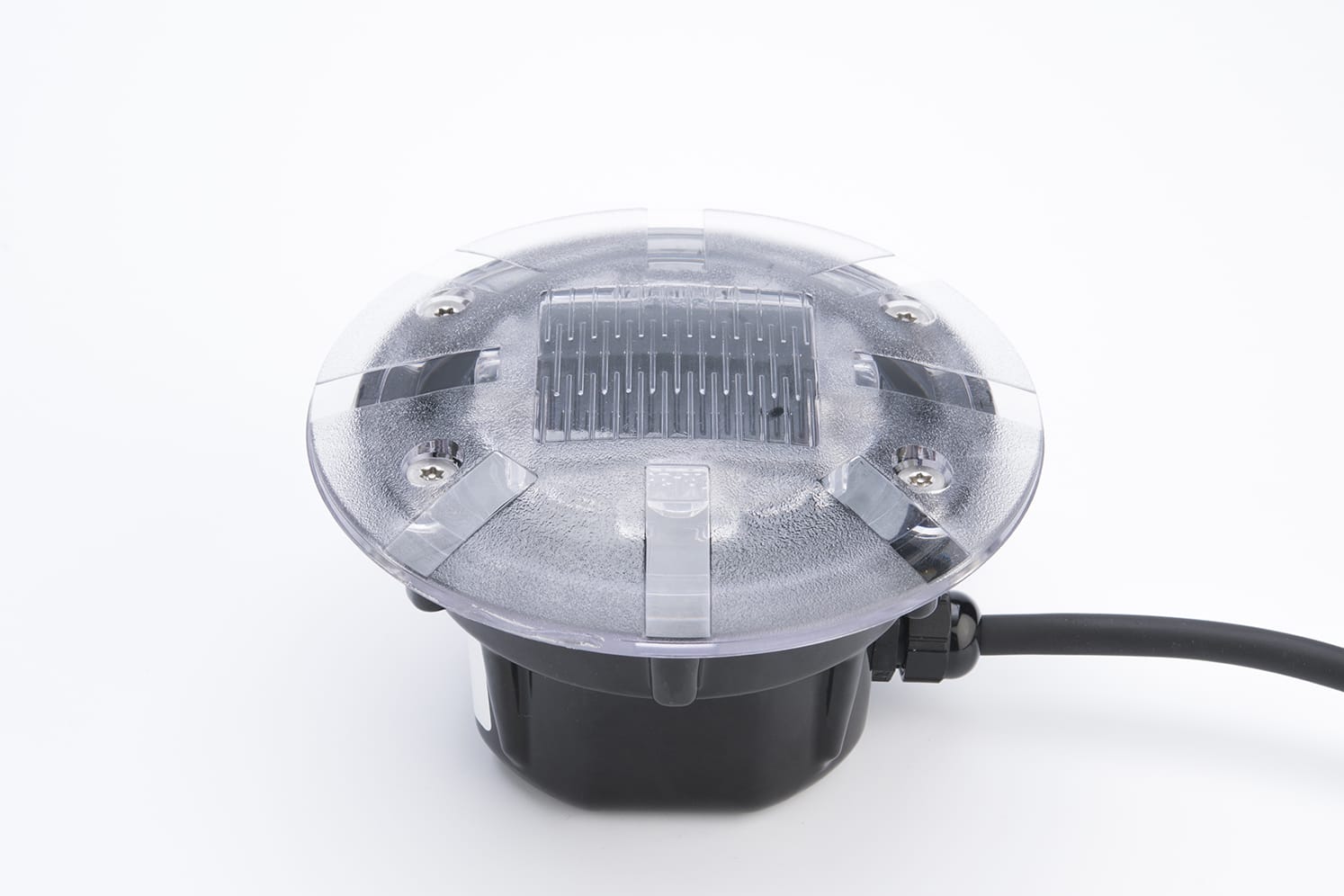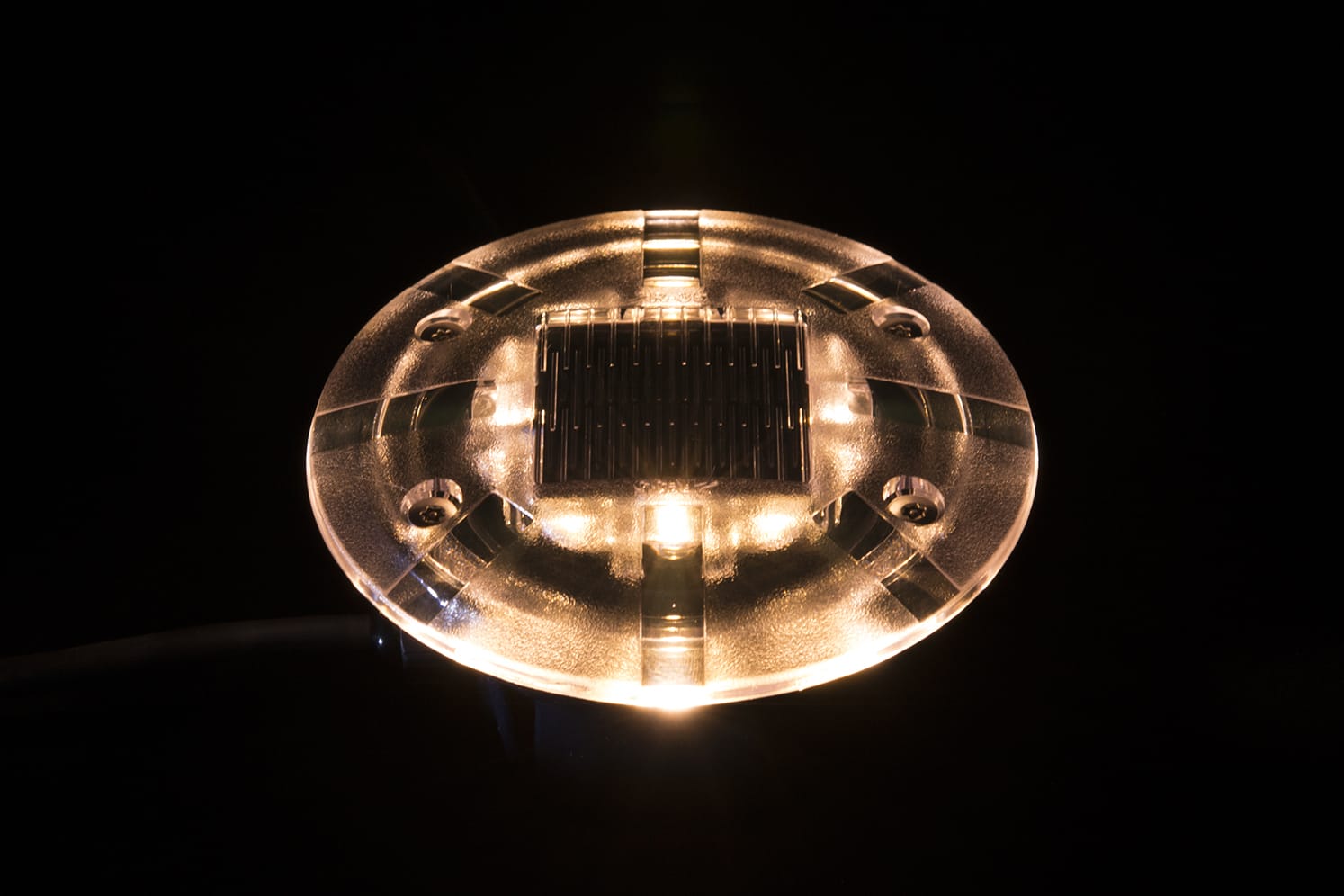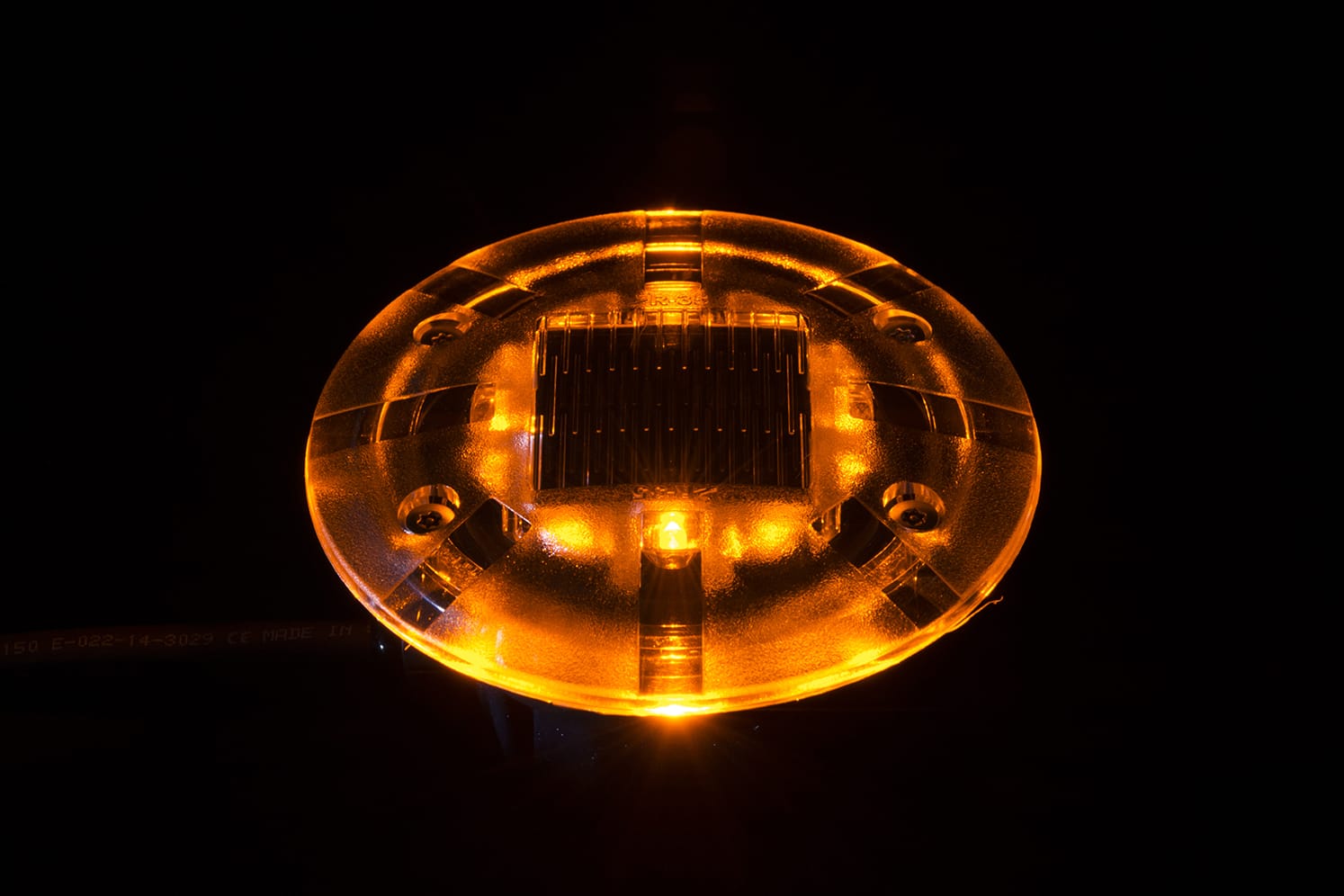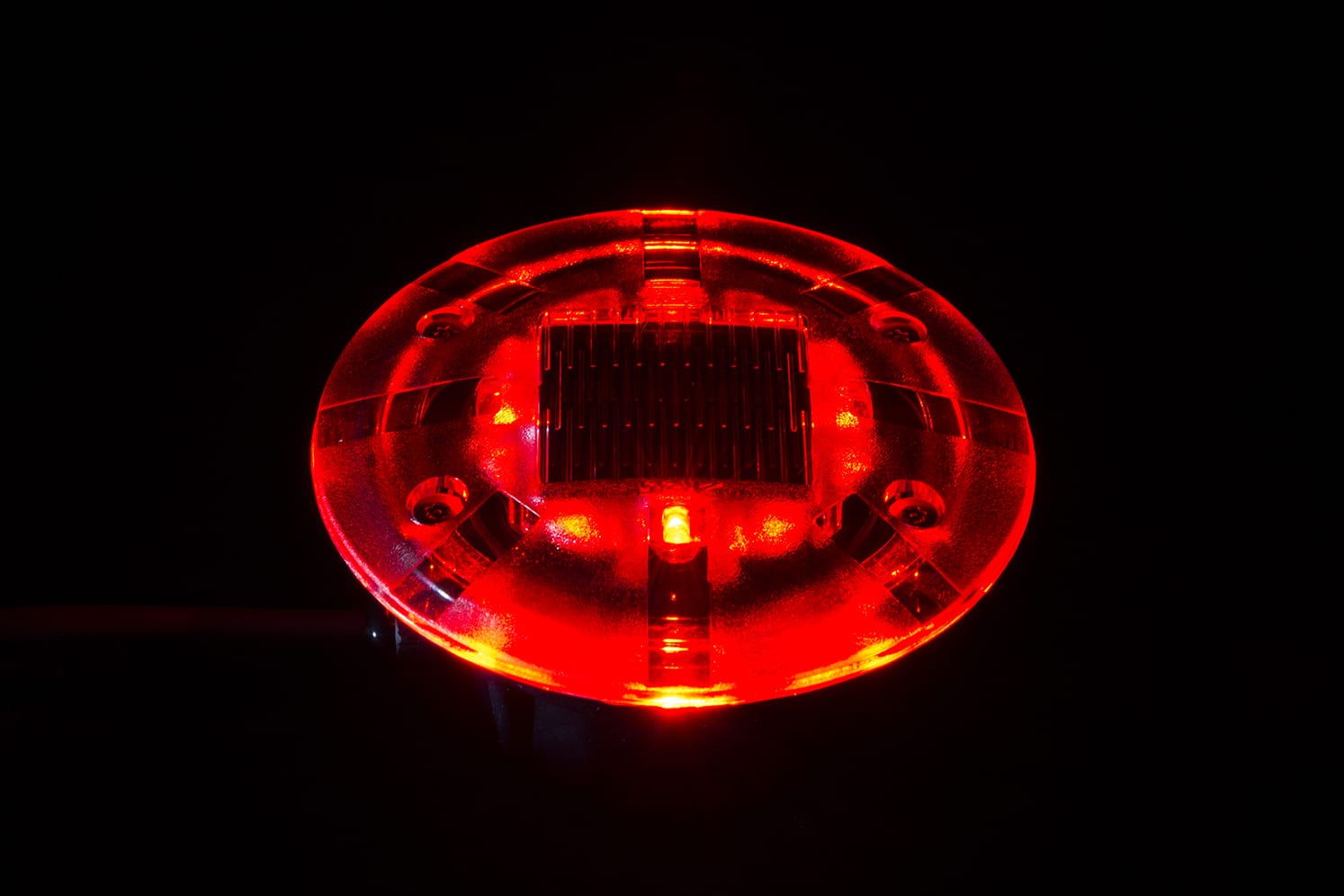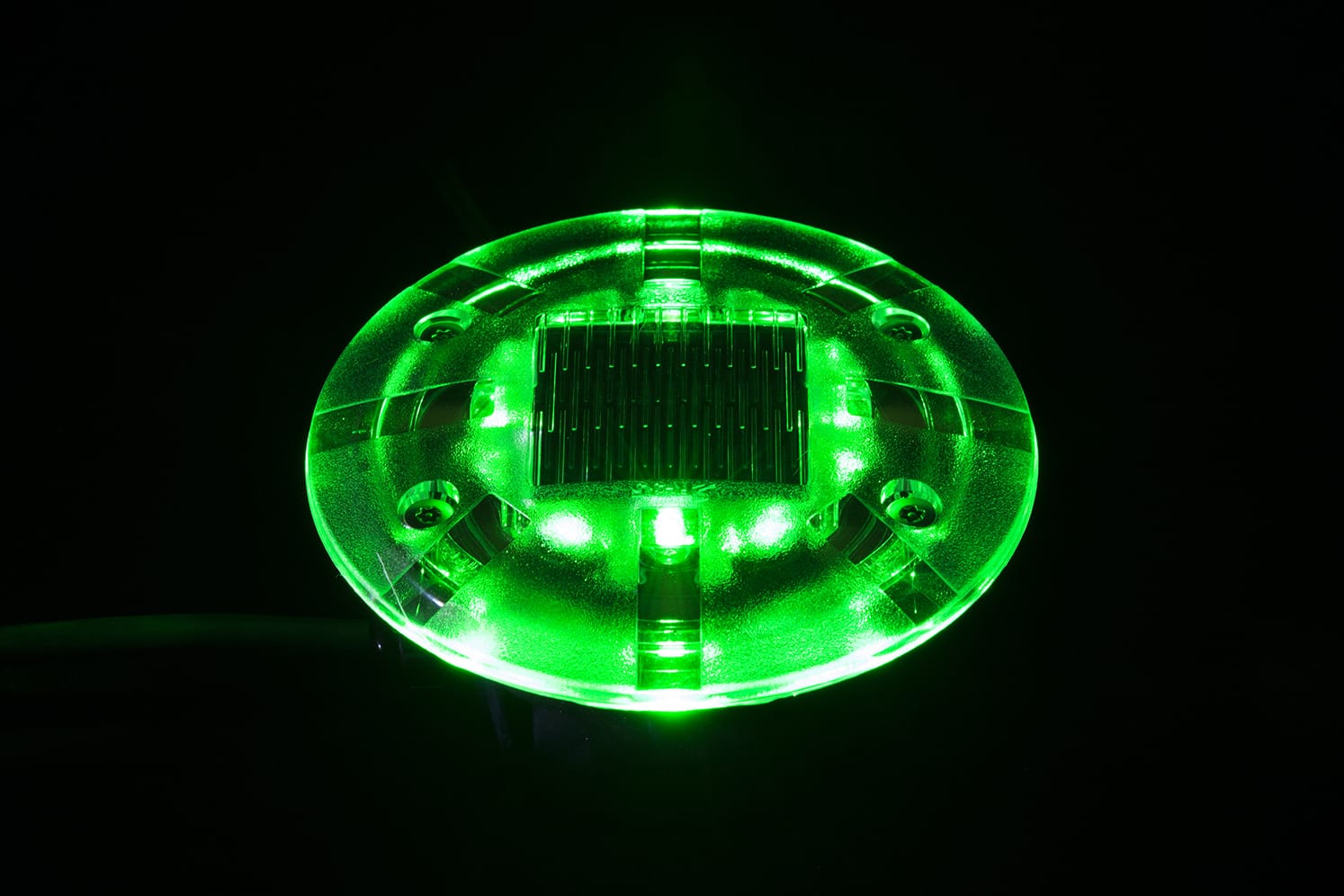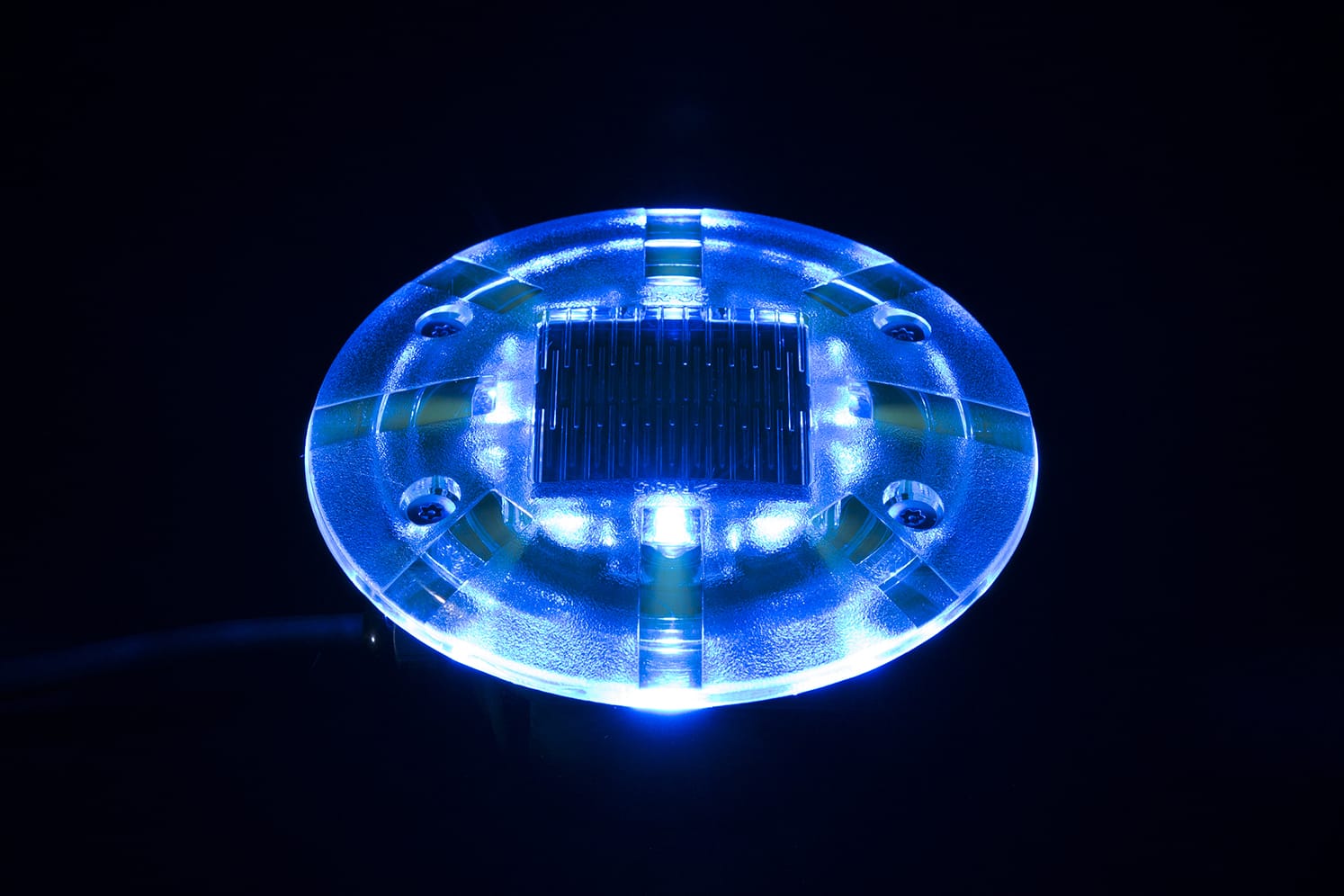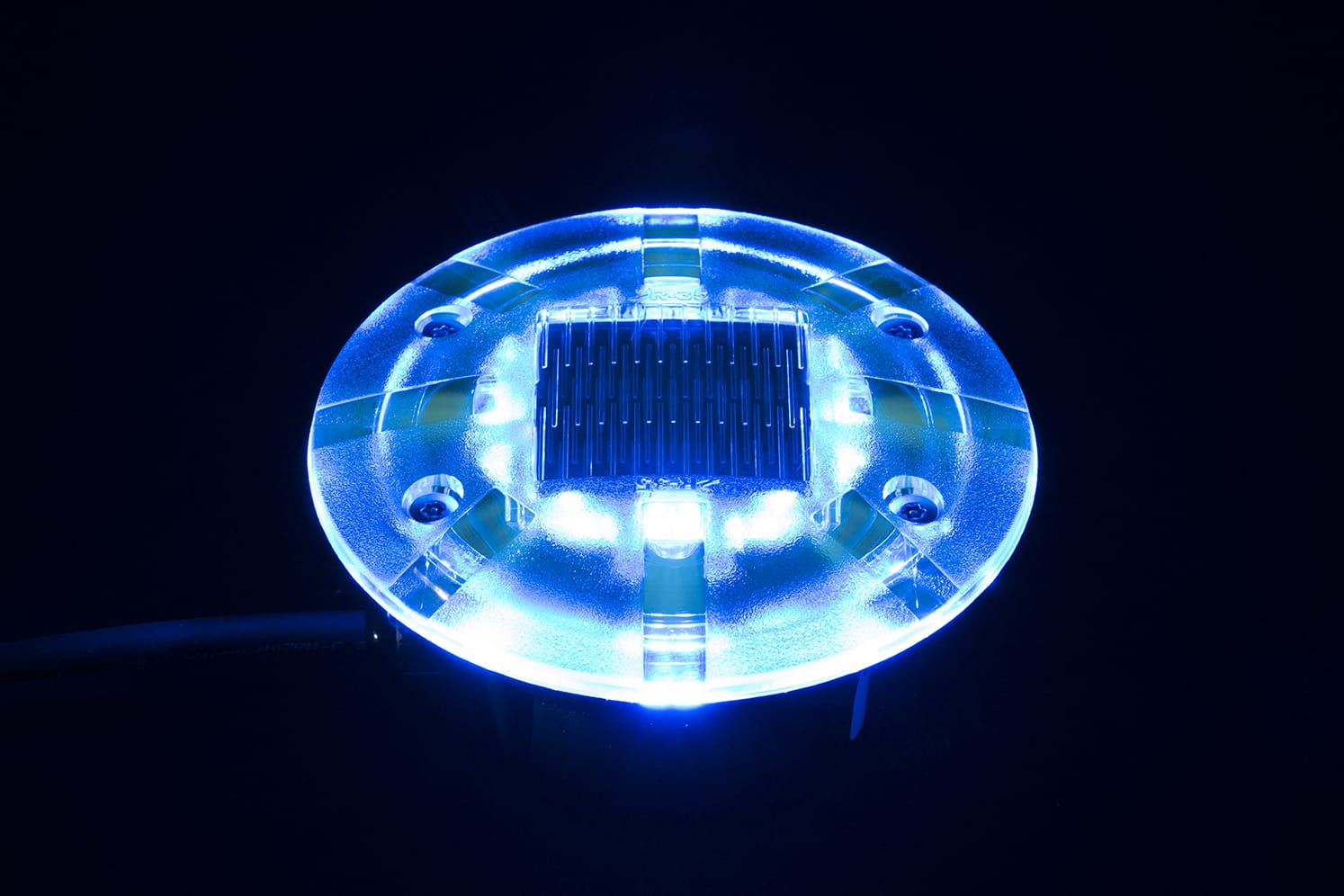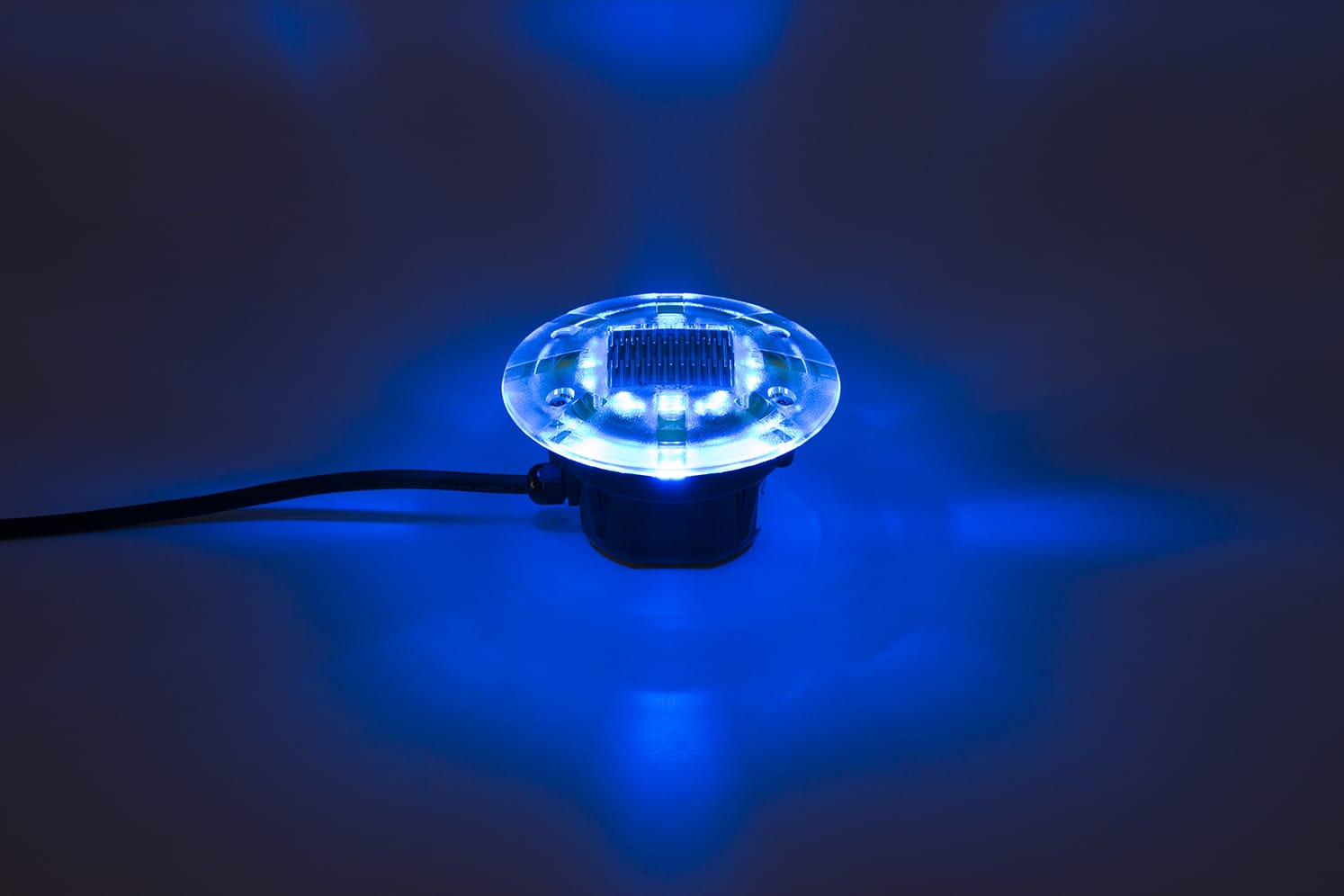 Decorative hard-wired embedded stud
Low-consumption luminous beaconing solution, suitable for areas that cannot be crossed by motor vehicles. Easy maintenance via the cover.
Customisation available (logo, coat of arms)
Resistance
Standards
LED Colors
Beaconing
8 LED, 16 LED, 360º, Constant, Blinking, Synchronized blinking, Sequential, Grazing, Vertical
Customization
Logo, Custom wiring, Coat of arms
Certifications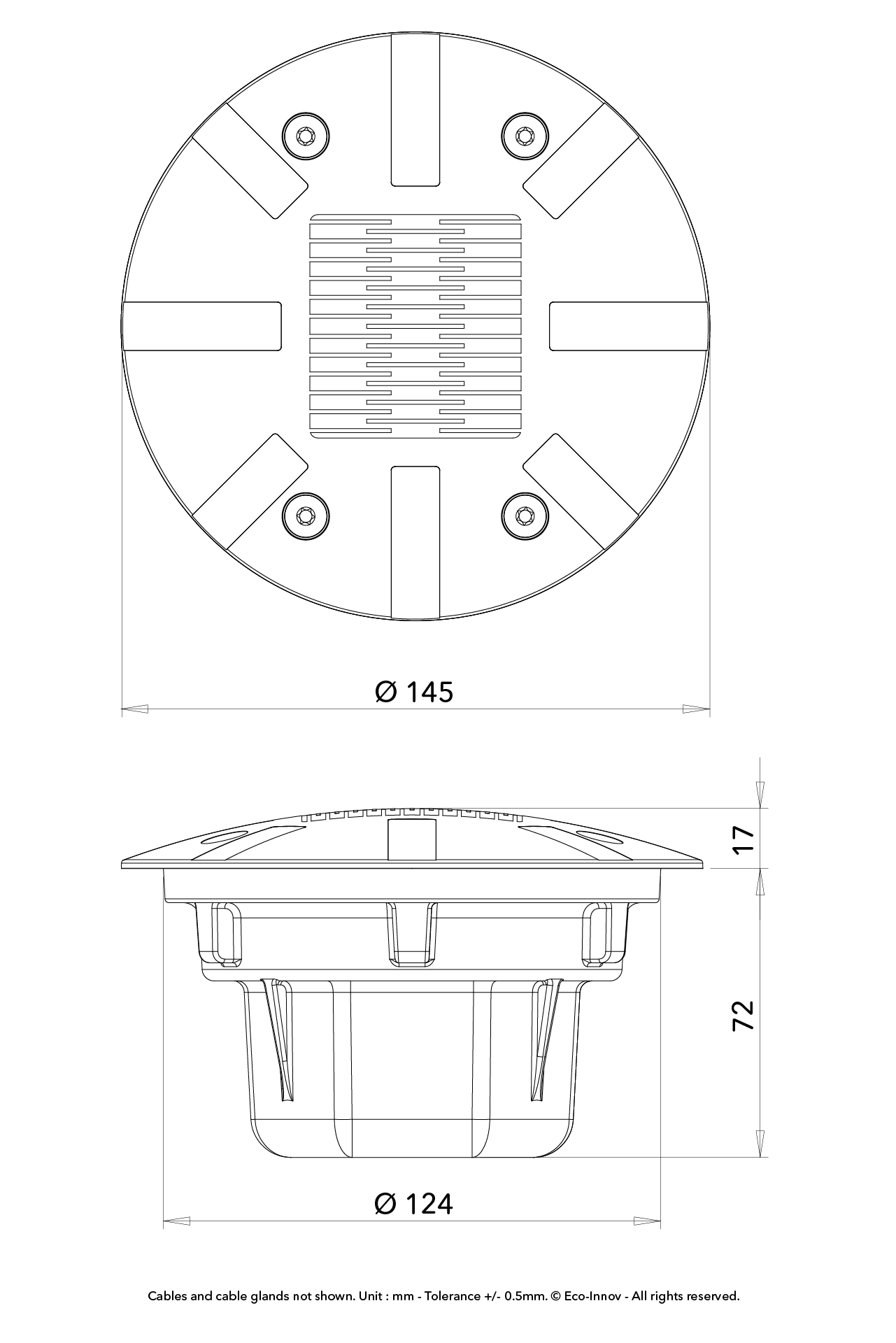 TECHNICAL CHARACTERISTICS
Dimensions and weight
Diameter of stud: 145 mm.
Total height: 89 mm.
Height above roadway: 3 mm at each end / 17 mm in the centre.
Weight: approximately 1 kg.
Materials
Aluminium and Polycarbonate.
Recycling managed by ECOSYSTEM.
Protection indices
IP 68 (watertightness).
IK 10 (impact resistance).
Power supply and consumption 
24V dc / 0.96 Wh to 1.92 Wh.
Electrical class 
III
Working temperature range
-30°C to +85°C.
Applications
Not suitable for roads used by motor vehicles.
LIGHTING CHARACTERISTICS
360º beaconing by 8 or 16 LEDs.
Constant, blinking or sequential mode.
LED colours: white, blue, green, red, amber.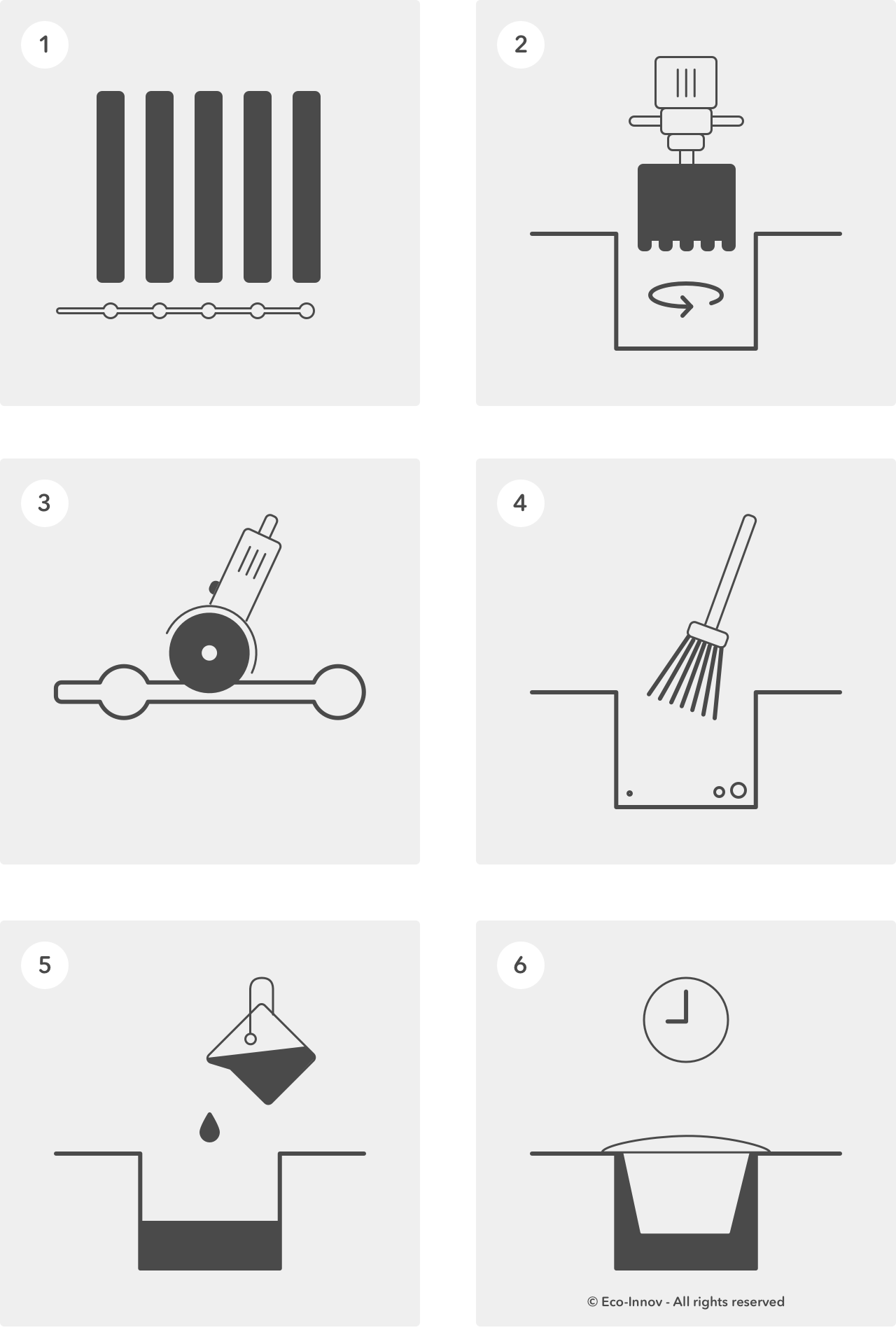 1 – Decide where the studs are to be installed.
2 – Drill holes with a minimum diameter of 130 to 135 mm and 80 mm deep.
3 – Using a disk cutter, cut a groove at least 25 mm wide and 70 mm deep between the holes.
4 – Carefully brush and clean the holes to remove any dust and traces of damp that would affect the efficiency of the adhesive (follow the manufacturer's instructions).
5 – Pour suitable adhesive into the holes and insert the pre-wired studs. Use a mallet to make sure they are flush with the ground surface. Make sure the LEDs are facing the right way and are parallel to the ground. Immediately clean any residual adhesive with a clean, dry rag. We recommend using Sikadur 30 two-component epoxy resin.
6 – Place a weight on the stud until the adhesive has set (refer to the instructions).
IMPORTANT: Do not bend the cable where it leaves the stuffing box. Protect cables in a sheath. The guarantee may not apply if these instructions are not followed.
Lifespan and warranty
2-year warranty*
LED: 100,000 hours (> 10 years of round-the-clock operation).
* The warranty applies in the event of complete failure of the self-contained lighting system during normal usage. It covers replacement of the faulty article with an identical model delivered free of charge to destinations in metropolitan France, after the faulty article has been returned and analysed. Removal of the faulty article, installation of the new one and any mechanical damage are not covered by the warranty.
Recycling
ECO-INNOV is a founder member of a network that recycles professional WEEE, managed by the eco-organisation ECOSYSTEM. We pay for our customers' electronic safety, lighting and regulation equipment to be collected at the end of its working life in order to meet our legal obligations and help them to meet theirs.
The unique identifier FR006801_05MBCK attesting to registration in the register of producers in the EEE sector, pursuant to article L.541-10-13 of the Environmental Code, has been assigned by ADEME to the company ECO- INNOV (SIRET 451 859 409 00026). This identifier certifies its conformity with regard to its obligation to registration in the register of producers of Electrical and Electronic Equipment and the realisation of its declarations of placing on the market with Ecosystem.
ECO-INNOV is thus one of the first producers to offer its customers a simple and free solution for collecting their professional WEEE, regardless of when it was marketed. The equipment is collected via a network of professional waste collection centres and certain wholesalers.