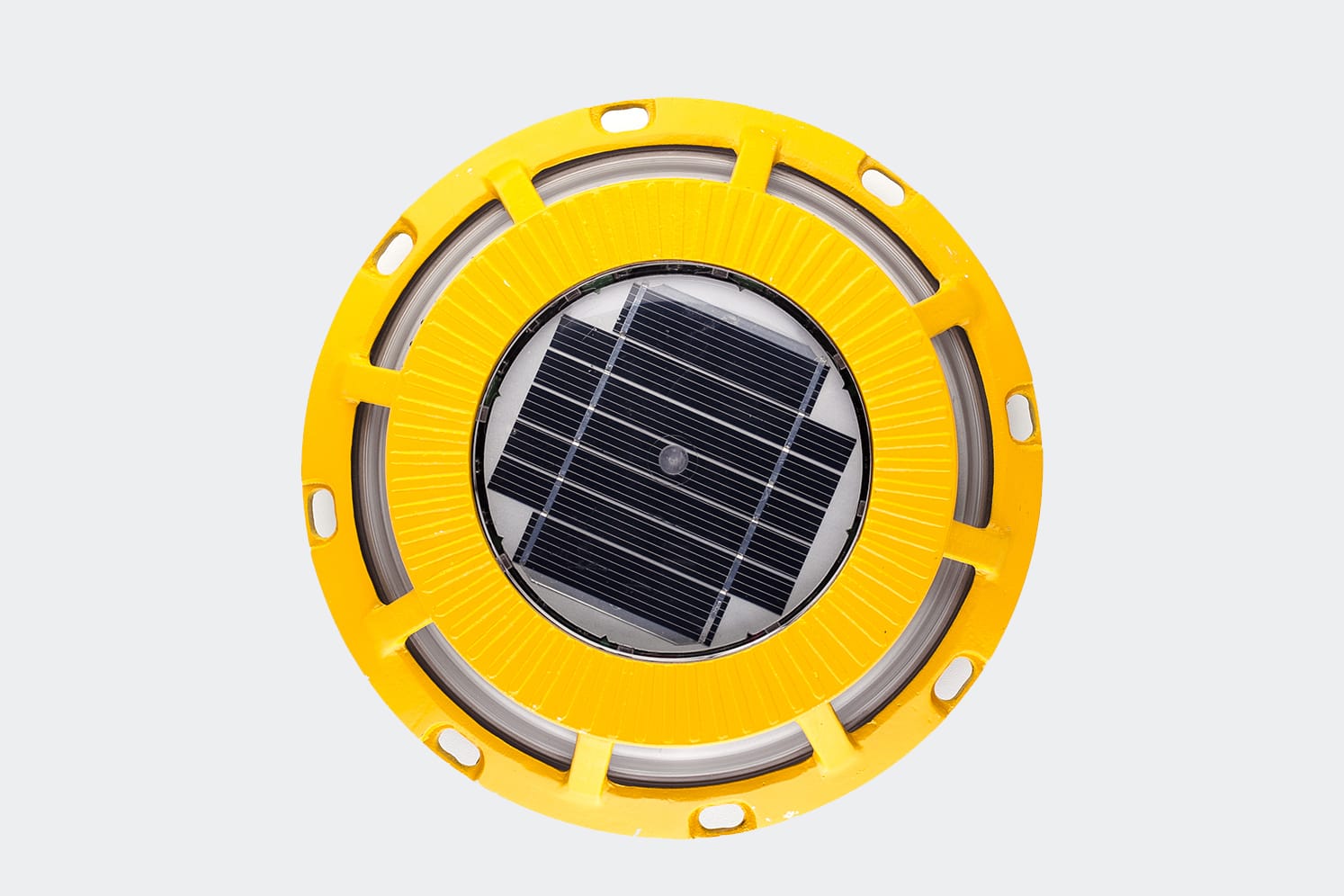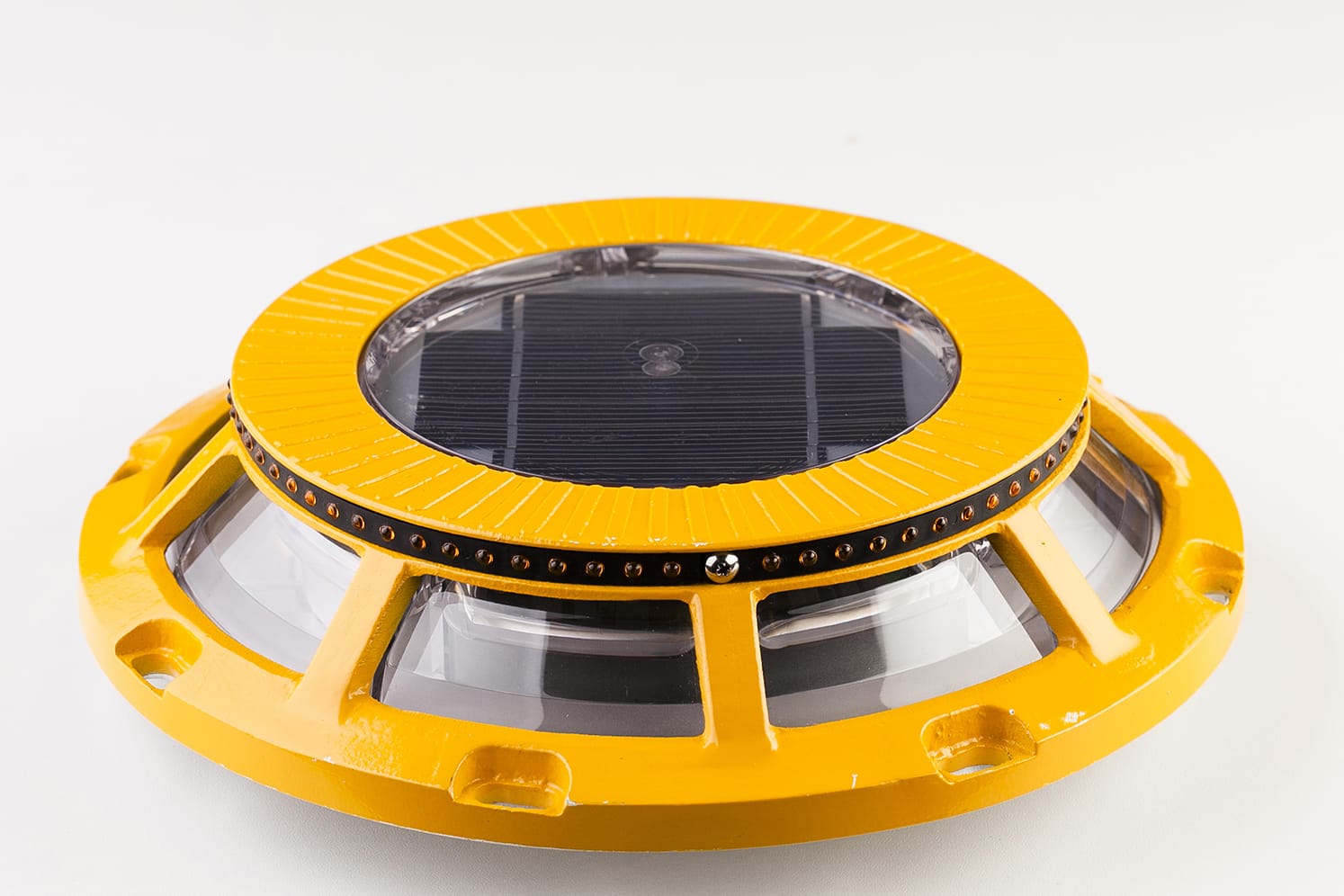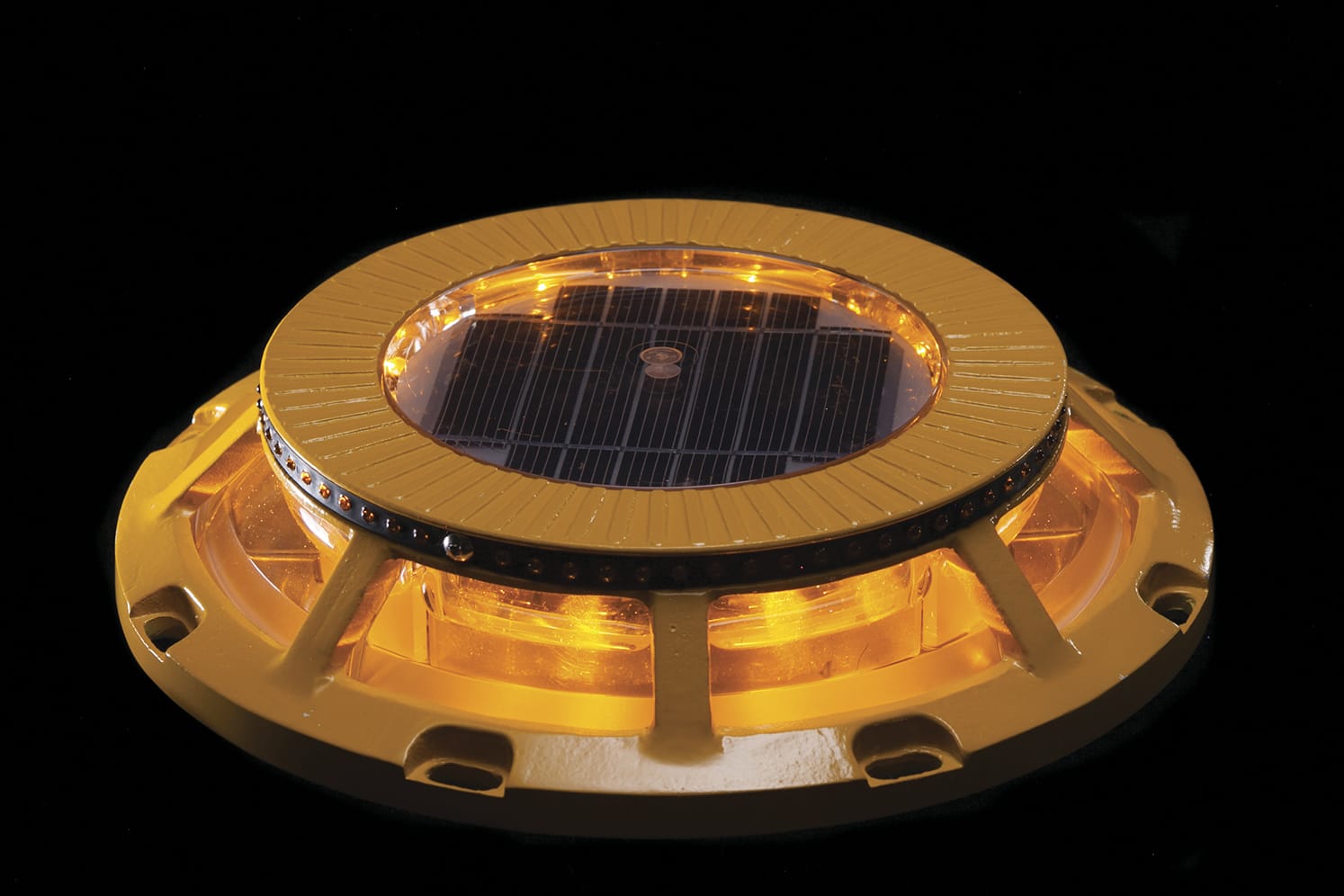 Luminous solar studs for traffic islands
Fully self-contained luminous beaconing solution. Used to mark the edges of roundabouts, traffic islands, chicanes, central reservations. Very simple and quick to install by glueing and screwing on to the support. Omnidirectional (360°) flashing beacon.
Applications
Resistance
Standards
LED Colors
Beaconing
16 LED, 360º, Blinking, Grazing
Recycling
Certifications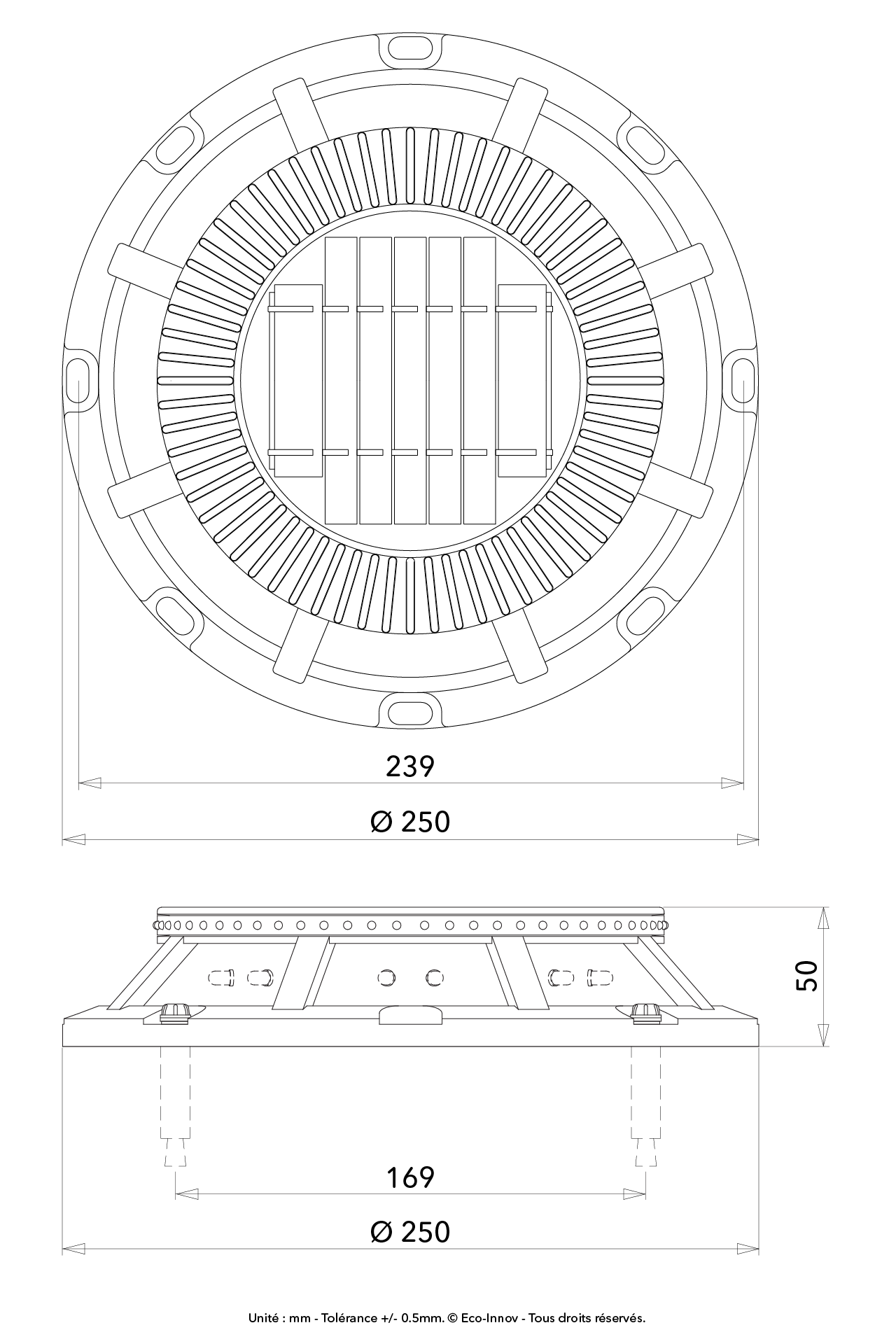 TECHNICAL CHARACTERISTICS
Dimensions and weight
Diameter: 250 mm.
Height above roadway: 50 mm.
Weight: approx. 1.8 kg.
Non-skid treatment on the upper flange.
Materials
Polycarbonate / Aluminium
Recycling managed by Recylum.
Energy storage
Condenser.
Working temperature range
-30°C to +85°C.
Protection indices
IP 68 (watertightness).
IK 10+ 100 Joules (impact resistance).
Pressure resistance
Edge stud for non-traversable lanes.

LIGHTING CHARACTERISTICS
Flashing omnidirectional beacon, 360° visibility.
LED colours: amber.
Diffuser lens in front of each LED.
Retro-reflector with glass beads, 360° visibility.
120 flashes/min. (± 10%) during normal night-time operation.
600 flashes/min. (± 10%) for 15 seconds after vehicle headlights have been detected.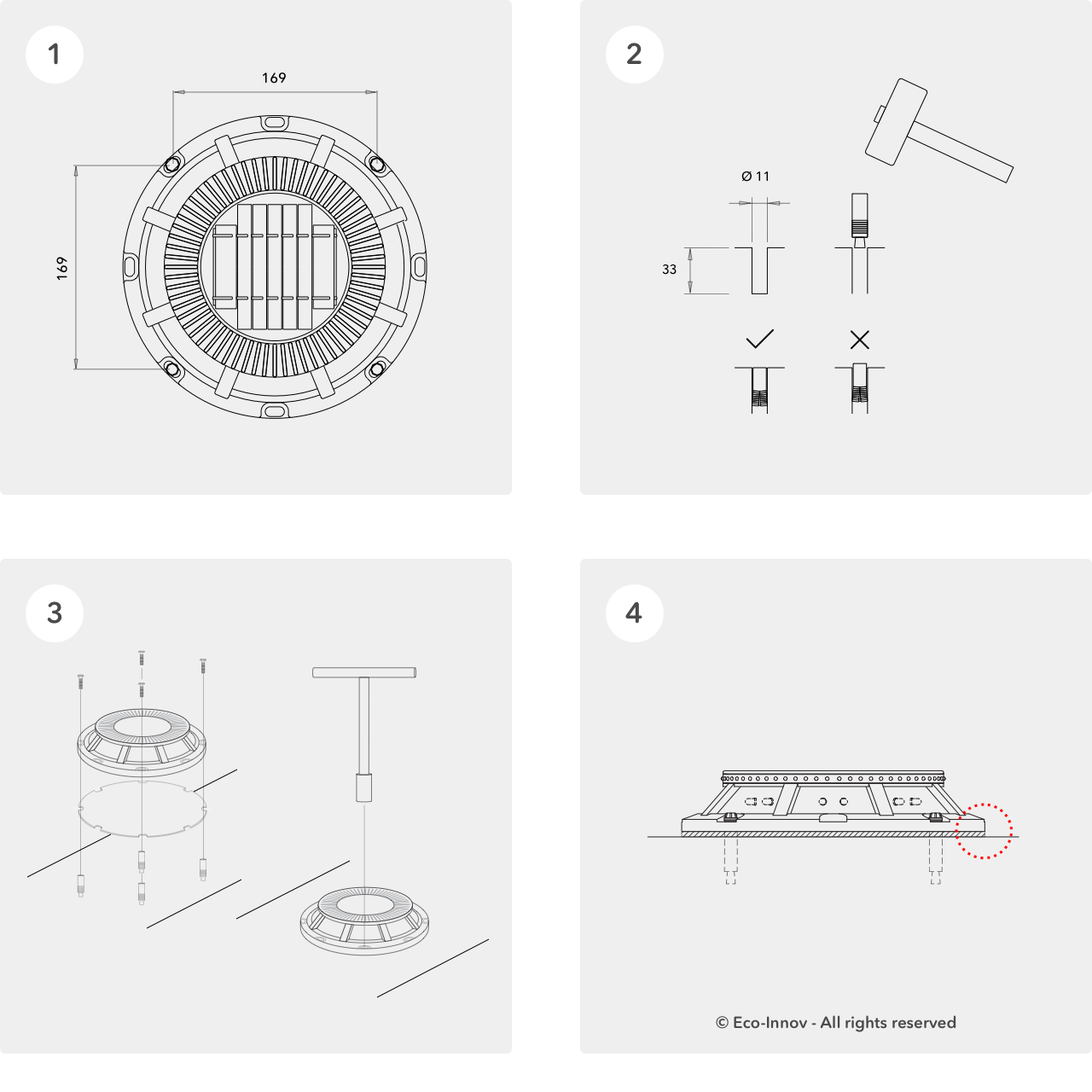 1 – After deciding where the stud and 4 screws are to be installed, drill the support (Ø 11 mm, depth 33 mm), making sure to leave a distance of 169 mm between the centres of the 2 screws.
2 – Carefully brush and clean the holes, support and lower part of the stud with a degreasing agent (Sika Aktivator 205 or equivalent) to remove all traces of dust and moisture. Then hammer the lower part of the attachment screws into the holes.
3 –  Apply about 3 mm of two-component epoxy adhesive (Sikadur 30 or equivalent) to the entire lower surface of the stud. Position the stud on the support.  Screw the upper part of the screws into their base using the wrench supplied. Clean any residues adhering around the stud.
4 –  Leave the adhesive to set (see the manufacturer's instructions for the necessary time). The entire lower surface of the stud must be coated with 3 mm of adhesive. The stud is now installed correctly.
Remark: make sure to keep the module and LEDs clean and protect them throughout these operations.
Failure to comply with these instructions may lead to the guarantee being suspended.
Lifespan and warranty
2-year warranty*
Average lifespan more than 10 years.
* The warranty applies in the event of complete failure of the self-contained lighting system during normal usage. It covers replacement of the faulty article with an identical model delivered free of charge to destinations in metropolitan France, after the faulty article has been returned and analysed. Removal of the faulty article, installation of the new one and any mechanical damage are not covered by the warranty.
Recycling
ECO-INNOV is a founder member of a network that recycles professional WEEE, managed by the eco-organisation Recylum. We pay for our customers' electronic safety, lighting and regulation equipment to be collected at the end of its working life in order to meet our legal obligations and help them to meet theirs.
ECO-INNOV is thus one of the first producers to offer its customers a simple and free solution for collecting their professional WEEE, regardless of when it was marketed. The equipment is collected via a network of professional waste collection centres and certain wholesalers.